New Album Review
May 27, 2022
ALBUM REVIEW: BLACK UHURU FEAT. DYLANS DHARMA, ANDREW BEES & KING HOPETON - NEW DAY
by Steve Topple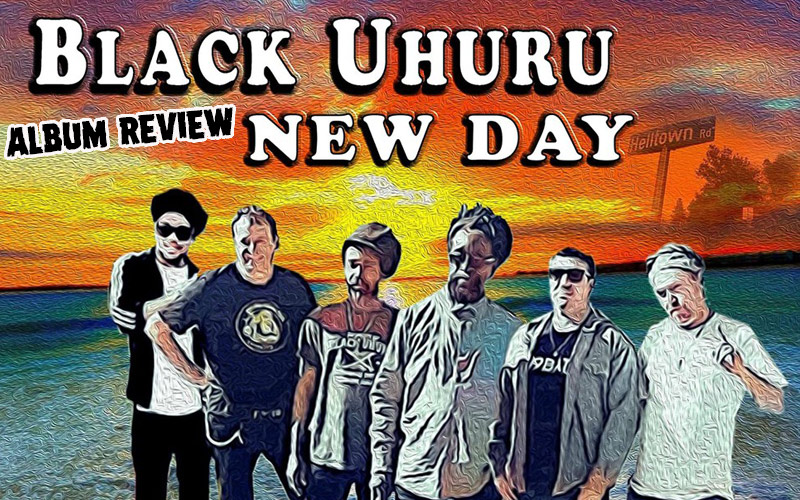 In terms of musical longevity, it may seem remarkable that one of the most iconic names that Reggae has ever gifted us, Black Uhuru, are celebrating their 50th anniversary. But when you listen to their new album, it's little wonder this legendary group is still going strong after half a century.
New Day, released via Californian independent label LAW Records, is quite a way to mark 50 years of making music. The album is a collaboration between Uhuru and Chico Roots-Rock crew Dylans Dharma, led by Dylan Seid. Interestingly, the majority of the tracks were recorded using analogue kit, namely tape – a rarity in 21st century music. This gives the overall album that rich, intricate and 'as-live' feel as well as pure finesse. Musically, Uhuru and Dharma have covered the length and breadth of Reggae-derived music – clearly representing their 50 years in the culture; no mean feat to make this genre-crossing feel seamless but they pull it off effortlessly.
The main line-up includes guitars by Leebert "Gibby'' Morrison, horns by Everald Ray, keys and bass by Horace "King Hopeton" Campbell and drums by Rolando Alphanso Wilson. Production came predominantly from band leader Derrick "Duckie" Simpson and Campbell before the majority of the tracks were mixed by Grammy-winning producer Jermaine Forde of Ajang Music.
Across the album, backing vocals by Nikki Burt and Elsa Green are impressive: sympathetic to each individual track, effective in their use of light, shade and harmonies versus call-and-response while also being soulful and well-executed. And overall, New Day is an affecting, emotive but abundantly positive experience – let down slightly by the less-than inspired and not very professional album artwork.
It opens with Jamaica To Here (based on the Ralph McTell track From Clare To Here),with Simpson and Seid sharing vocal duties. The track sums up the album's collaborators perfectly: combining both Jamaican and Cali elements. Reggae is repped by the keys winding across a bubble rhythm, the use of a vibrato'd electric organ and some rhythmic Dub reverb thrown in. Then, the SoCal sound is delivered by that classic electric guitar technique: heavy on the reverb and tremolo, plenty of bending and a healthy dose of blue notes and glissandos thrown in. It's just perfection and the JA/SoCal sound is utterly gorgeous – complemented by Simpson and Seid's pleasing vocals and the clever lyrics nodding to the historical links between Jamaica and California and their Reggae scenes/culture. Stunning.
Helltown sees Simpson go solo – and personally too, as the track is directly about the devastation a wildfire meted out in the northern Californian mountain enclave Helltown and the community's response to it (although you have to wonder if it's also an allegory to Babylon and those of us in mental slavery under it). The track stands in contrast to New Day's opening: predominantly in a minor key, instrumentally stripped-back and with a heavier focus on the dominant bass. The guitar line has lost some of that overly Surf Rock/Cali feel – starker and harsher in tone. Reggae elements still dominate, but overall, the track is sparser with Simpson's vocal forthright and resolute – and the whole thing is haunting and affecting.
Seid returns with a rich and resonant performance on lead vocals for I Can See The Light, which again switches the sound up. Here, New Day moves into something overly Reggae-Soul, with the former being represented by the usual musical devices. The chord progressions are beautiful and overly soulful; lazy horns strut in and out on call and response duties, and the inclusion of a theremin is a genius touch. It's a love song by definition and a well-executed one at that.
The previously released Brand New Day has Simpson and Seid combine vocal talents across a more upbeat Reggae-meets-Cali track, with some pleasing use of synth strings thrown in. The two artists return on the lyrically positive Just Begun, which marks a definite shift towards Ska: that pacey BPM; syncopated and incessant drum line; punchy staccato horns and with the focus being heavily on the offbeats. But the bass is not quite a traditional Ska walking one – and then strings and that SoCal guitar make a return. Just Begun, with its positive message about maintaining faith in the face of hardship, is a pleasing offering.
King Hopeton takes over vocal duties on Gal Next Door (a reimagining of The Paragons' Man Next Door) – and does a sterling job, soaring effortlessly in his high tenor over the musical backdrop. Here, we move into Reggae-Dub territory with all the sensibilities of the former present, including an attractive and funky electric organ line and riffing keys. But the Dub synths, including pads, are omnipresent – and then some smatterings of Soul via the once more pleasing strings cement this ballad about the trials and tribulations of having disruptive neighbours (with a not-unsubtle nod to the breakdown of a relationship, too).
Hold You, with vocals from Seid and Campbell strips New Day right back to rudimentary Reggae with the focus here being on compositional and instrumental quality, not quantity – as the pared-back arrangement allows the lyrics, about a proclamation of love, shine. Simpson returns for the somewhat sexual Nine Star General. It doesn't need to apologise for essentially being a reimagining of Beyoncé's debut solo single Work It Out (reworked into an Old Skool, Sound System-style Dancehall track while maintaining the original's Funky Soul influences). Because it works really well.
Top Rankin brings back Oneil Beckford (aka Andrew Bees, long-time Uhuru frontman and now solo artist) on vocals but conversely hones in on the Revival Reggae sound: a minor key; that harder, nearer Hip Hop drum line with its dominant kick and snare; the rapid bass; use of diverse percussion and Dub engineering, synths and samples thrown in – before a melodica comes into play. The message, about how those who fall under Babylon's spell will live to regret it, is perhaps the strongest of New Day and overall Top Rankin is an impressive and engaging offering.
Simpson's Scorching Day, discussing the violence that Babylon perpetrates and also leaves us meting-out on each other, takes us into Old Skool Dancehall, with its 'oneeeeee-twooo-and' x2 rhythmic clave being central. The use of alternating major and minor versions of the chords is a clever move. Yet still, those Cali and Soul elements are present – making the track intriguing and highly listenable.
The album closes with Colour Blind Love Affair, with Simpson leading us out on vocals and giving us a message of human unity despite all the odds. The track is a reimagining of their 1991 track Colourblind Affair (from the Iron Stormalbum where Don Carlos delivered the vocal). It's perhaps the most ambiguous track of the album: it feels Soca, with its near 'oneee-and-ah' beat on the percussion and stuttering hi-hats, but the bass uses a Dancehall clave while the backing vocals are more Afrobeats. The electric Cali guitars are still there but with some Rock cousins plus their skanking Reggae brother. It's progressive, inspired and thoroughly affecting – and the modern, eclectic feel perfectly ends Uhuru's 50-year journey across one album. Superb.
New Day is a masterclass in how to encompass a career into one album. Uhuru, Dharma and everyone involved have produced an album of sheer quality as well as unadulterated musical pleasure. The sweeping across genres as an allegory to the group's career works wonderfully and overall, the album is a stunning body of work.