The new Black Uhuru Album is Nominated For Grammy
December 7, 2018
The 61st Annual Grammy Awards nominees have been revealed!!!
BEST REGGAE ALBUM - NOMINEES 2019
BLACK UHURU - AS THE WORLD TURNS
ETANA - REGGAE FOREVER
ZIGGY MARLEY - REBELLION RISES
PROTOJE - A MATTER OF TIME
STING & SHAGGY - 44/876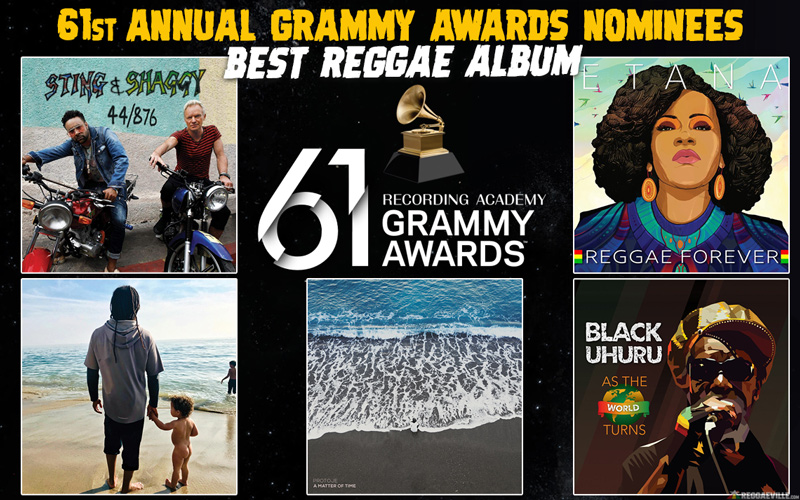 Black Uhuru's Grammy Bound
BY HOWARD CAMPBELL
Observer senior writer
Friday, February 08, 2019
Duckie Simpson will head to the Grammy Awards at Staples Center in Los Angeles on Sunday, knowing that Black Uhuru are dark horses in a five-strong field. But the self-described four star general rates his chances of pulling off an upset with As The World Turns, which was released in September.
"Wi a go tek it! Mi feel is time fi a group win it again," he told the Jamaica Observer in December, shortly after the nominations were announced. Simpson, 67, founded Black Uhuru in the Kingston community of Waterhouse in 1972. On Sunday, their rivals for Best Reggae Album are 44/876 by Sting and Shaggy, Reggae Forever by Etana, Ziggy Marley's Rebellion Rises and A Matter of Time by Protoje. Black Uhuru won the first Grammy for Best Reggae Recording (as it was known) in 1985 with Anthem, produced by Sly and Robbie for Mango Records, a subsidiary of Island Records. At that time, their line-up also included lead singer Michael Rose and Puma Jones.
This is their eighth nomination. The other occasions were for Brutal in 1987, Brutal Dub (1988), Now (1991), Iron Storm (1992), Mystical Truth (1994) and Strongg (1995). Marcia Simpson, who helps manage the veteran group, told Jamaica Observer's Splash that a win for Black Uhuru would enhance their reputation among a younger demographic. "It would be a good look. A lot of young people are at our shows and winning would definitely be a big plus," she said. Duckie Simpson and singer Andrew Bees are the current members of Black Uhuru, which retains a strong touring presence in Europe and the United States.
Entertainment
Duckie predicts Grammy win
BY BRIAN BONITTO
Associate Editor —
Auto & Entertainment
bonittob@jamaicaobserver.com
Monday, December 10, 2018
Confessing he is surprised by Black Uhuru's Grammy nomination in next year's Best Reggae Album category, founder Duckie Simpson is confident the group will have its second lien on the coveted trophy.
"Wi a go tek it! Mi feel is time fi a group win it again," he told the Jamaica Observer yesterday while lauding the other nominees. "Mi neva did a pene(trate) Grammy when mi a record the album. But wi put in a whole heap of work in the last five years inna California... Wi outta dem place deh like New Zealand and Europe. Wi active in the world," he continued. Black Uhuru is nominated for its 15-track project As The World Turns, released on September 7.
According to Simpson, the set is different from previous Uhuru albums. "This is the first CD (album) with Duckie upfront (on lead vocals)... It's hard core," he said.The set boasts collaborations with Prezident Brown, Agent Sasco and Bugle. Executively produced by Mike Gener and Simpson, As The World Turns features keyboard player Horace Campbell, guitarist Leebert "Gibby" Morrison, and Nichole "Nikki" Burton on vocals. It was mixed by his stepson Jermaine Forde. "The album yah very special to me… working with Jermaine and the team. Jermaine help open my music to a younger generation. He is the person behind the 'collab' with Bugle on Jah Guide. Bugle and Jermaine tight. Big up Sasco too; a my deejay that quietly. A six years ago mi and Prezident Brown record the song Live and Learn," he said.
Black Uhuru was formed in Waterhouse in 1972. Simpson, Michael Rose and American Puma Jones comprised the most successful line-up from the late 1970s to 1985, when Rose left and was replaced by Junior Reid. In 1985 the group etched its name in the history books by winning the first-ever Grammy Award for Best Reggae Recording for the album Anthem. The group's hit songs include Solidarity, Shine Eye Gal, Plastic Smile, What Is Life? and Guess Whose Coming to Dinner. Earlier this year Simpson and Rose were locked in a legal tussle over the name Black Uhuru. The matter is still in the courts. "Everything look good," said Simpson about the case.
The other nominees in a competitive Best Reggae Album field are Reggae Forever by Etana, 44/876 by Sting and Shaggy, Rebellion Rises by Ziggy Marley, and A Matter of Time by Protoje. The Grammy Awards will be held at Staples Center in Los Angeles on February 10, 2019.